Micah Richards, in today's interview with the excellent Henry Winter, likely let us all into the inner workings of the James Milner contract impasse: it's about contract length, duh.
Rumours of Milner's reluctance to sign to sign a new deal with Manchester City have mostly revolved around 'playing time' or the center midfield position, but recently we have heard the impasse really revolves around the contract length and Micah seems to confirm this:
But I am disappointed so many players have left. It would be a shame if James Milner goes this year because he's been unbelievable. He gives 100 per cent and proved he can mix it with the big boys. You see players coming in to City for £20 million or £30m on £100,000 or more a week. Then you see a player like James who's given his all for the team, and the club are umming and ahing over an extra year's deal. Sign him up. You've got players like James who'll do anything for that club and then you've got players who come in on big money and don't really care and end up going."
Is Milner's reluctance to sign a new deal really all to do with an extra year on any new contract? It sounds plausible if not down right possible. James Milner is a mighty good footballer who, at this stage of his career, is likely interested in a few things regarding his future:
Security of contract length
Winning environment
Playing time
Fair market value
Continuity
Which of these things are truly important? All of them, probably. But some more than others. James Milner is likely not solely motivated by money. Nor is he likely to change clubs or downgrade clubs for the sake of it, for why get paid £x million per year at, say, Tottenham when one could collect the same wage at City? One of these clubs is likely to be challenging for honours in the Champions League and the Premier League and one of these clubs are not. This is the modern reality of the structure of the Premier League.
So, if Milner could collect the same wage at City as elsewhere and has a more realistic chance of winning silverware at City then why leave? Playing time may well be a very real issue; all players want to play every game but does that desire surpass the possibility to win trophies? Depends on your character, I guess, but I would be surprised if at age 29 playing time would be the number 1 priority factor for this player. Playing 60% of the minutes for a contender likely trumps 85% of the minutes for a second tier club, no?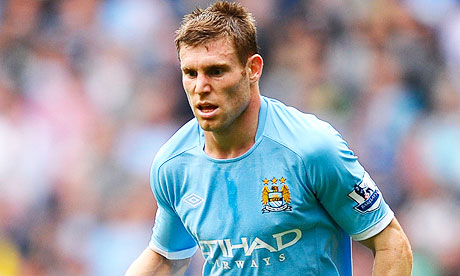 So, in my opinion, that leaves us with just security of contract length as the main cause to this will-he-sign, won't-he-sign contract saga. It is very possible that James Milner is asking for a 4 year deal from Manchester City, a deal that will take him up to 33 years of age.
From Milner's side of the bargaining table this is a no brainer. A 4 year deal shows commitment from Manchester City, a desire to retain the player and belief in his ability. It would also offer parity with the other members of Manchester City's squad who signed long-term deals this year: Kompany, Aguero, Silva, Nasri, Dzeko, Kolarov etc.
If James Milner is only being offered a 3 year deal and is not prepared to sign it, how wise would it be on his part? Does the extra year on Milner's contract really mean that much to him, is it the hill worth dying on? Yes, that extra year guarantees extra money and security. And it hints at the regard Milner is held in by the management structure, but how important will that extra year be to the player if he is plying his trade for Tottenham in 15/16 and excelling in the Europa League instead of at City and excelling in the Champions League?
How important will that extra year be then? It will seem insignificant.
James Milner, at 29, is unlikely to sign for a club with a better standing than Manchester City. He is unlikely to be offered a better wage (barring some unforeseen overpay). Hell, he is unlikely to be offered a contract much longer than 3 years except from a club who is reaching and prepared to over-commit to ensure the players signature.
James Milner's best overall offer is likely to come from Manchester City who offer continuity, a chance at silverware, a top end wage (with bonus money), and reasonable-to-good playing time. Does City's offer of a 3 year deal and the players desire for a 4 year deal change any of the best offer reasons? Not really. Milner would leave some money on the table by foregoing that extra contract year but these are the decisions aging players have to make. More money (and security) or a better winning environment?
As for the City's side of the bargaining, it is pretty easy to see why they don't  want to over-commit to an aging player who is not part of the 'core'. Manchester City have a rapidly ageing squad, and although Milner may be a decent bet to have a long Autumn to his career, the club could really do without the inflexibility of tying up too much money and too many squad spaces with players who are post-peak.
By my count City have 
17 players
with contracts that expire when they are in their 30's, and it probably doesn't need me to tell you that this will be an issue down the road.
All things considered, James Milner would be mighty wise to sign a 3 year deal if that is what is being offered to him. The extra (4th) year of any prospective new deal certainly matters but it doesn't matter enough if the outcome of a refusal to sign means Milner departs from the football club. A 3 year deal is likely very fair for all parties - City retain the player and his value, Milner gets to stay, gets paid and can compete for the very highest honours.