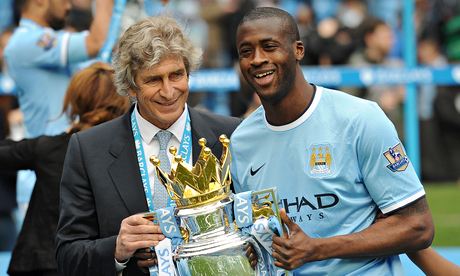 Questions
Just how good was Toure last season?
The basic numbers say he scored 20 goals, assisted 9 which is mighty good for a supposed midfielder. If we look at Toure's Goal Contribution% (goals+assists/team goals when on the field of play) then Toure was involved in  30.2% of all City's goals last year.
Wow that is pretty good!
For a midfielder, yes. It must also be said that 6 of those goals scored were penalties, and there were a good number of free kicks in his total, too. Toure wasn't the first choice penalty taker in previous seasons when Aguero was fit and he certainly didn't take free-kicks with Tevez around.
So, he won't repeat those goal scoring numbers?
It is pretty unlikely. Toure converted 24% of his shots into goals. His previous years were 16%, 9% and 10%. The penalties helped, the free-kicks helped and some outrageous finishes also helped.
Toure is 31 now and at some point he will start to slow down, although it is very tricky to say when the slowing process will begin, or when it did begin.
So that is a no then?
It's a no.
How many goals will get?
Depends on the CAF....12 goals.
Why?
I still think he will take the odd penalty and score a couple of free-kicks and he may well be used a little differently than he was last year.
How so?
I think Fernando's arrival may mean that Toure will be freed from any defensive responsibility that he had when playing midfield. I think it is possible, especially in the early part of the season with Aguero and Negredo's fitness issues, that Pellegrini plays a 4-3-3 with Toure at the head of that midfield.
If Toure does play further forward and closer to the striker it may be the case that Toure vastly increases his shot volume from a 50-60 shots a season player. More shots, closer to goal could mean good things for Toure.
But he's not all about goals is he?
No, he is a fantastic all-round footballer. Blessed with runaway train pace and power, excellent technique, short to long range passing ability. He is also probably the most difficult to remove player from possession in the PL. He shields it so, so well and his team-mates know that they can give him the ball in pressure situations and that he won't lose the damn thing.
Good God! They may turn him into a center forward on that evidence!
It's only YouTube! Seriously though, he has all the attributes one could ever wish for in a modern midfield player. Passing range, vision, execution. He has it all.
What can't he do?
Defend. Get younger. Be 27 again. Clone himself.
Whut?
He's getting older, he'll likely start to become more injury prone and one day we will have to replace a player who looks to irreplaceable.
Every player is replaceable, no?
There's nobody like him, nobody is in his ballpark or has the wide range of skills that he has. It's not really close. I asked Twitter to name me PL midfielders who were better than Yaya Toure:
@benjaminpugsley Modric.

— Vealie (@robvfour) August 14, 2014
@benjaminpugsley Gerrard.

— Saul (@fardarter) August 14, 2014
@benjaminpugsley Modric, Scholes

— Aaron Lovegrove (@lovegrove_) August 14, 2014
@benjaminpugsley Last season or overall? Modric , Lampard (in his prime) and Essien (pre-injury and in his prime)

— Danielzinho (@danielediross) August 14, 2014
@benjaminpugsley scholes, and dont be an ass and deny it

— Max187 (@MaxHarrington93) August 14, 2014
@benjaminpugsley Vieira, Lampard, Keane, Scholes

— Mowlid (@MowIid) August 14, 2014
Modric, Gerrard, Lampard, Scholes, Vieira, keane. That is some list. I'll let you guys decide if any of those top Toure.
I believe that Toure possesses a wider range of skills than all of those players, but I'm biased anyhow. I don't think anyone bests is game management, pace, power, vision, goal threat and terrible tracking back. Just an opinion.
It will be impossible to replace him like for like, can City replace his output one day? Probably, in one way or another.
Ok, ok. So he's a key player?
Yep,obviously. He's joins the holy trinity of Kompany, Silva and Aguero. And boy do I like Fernandinho, too.
What kind of season can we expect from him next year?
Some goals, but not as many. The same rampaging runs, the same beautiful passes, probably less defensive responsibilities. And I pray no real, perceptible decline. He should still be the dominant player we know, and if injuries don't catch him he probably will be that same player.
I'm pretty excited to see what he can do if he plays in a midfield 3 and is freed from some of the defensive duties.
How many games will he play?
Impossible to answer, really. The CAF seems to be in the balance due to the serious outbreak of Ebola and there is a very real possibility that the tournament may be postponed. So I'm gonna skip this prediction until we know more.