I played around with title up there as I'm sure you've seen. "A Clash of The Titans" I hear you say!
It can hardly be a clash of the titans when both clubs occupy their current PL positions:
The league positions for the respective clubs aren't pretty and, for Man City at least, an 8th place position after 11 games most certainly wasn't in the plan during the preseason targeting that inevitably took place.
Both Man City and Tottenham have issues with goals: Tottenham can't score 'em, City can't prevent the opposition from scoring 'em. Bad news all round then? Well, no. Not really.
Man City and Tottenham are two very strong teams by the underlying numbers that I, and many others, track because we haven't got meaningful lives to lead.
Man City's 2013/14 Numbers
*TSR=share of shots. SoTR=share of shots on target. Final Third Pass ratio=share of the final third passes. PDO=scoring%+save% (average is 100). TSW=average time spent in a winning position. Corner Ratio=share of the corner count. SoT Rating=how efficient a team is in getting it's shots on target +preventing the opposition from doing likewise. Open Play TSR= share of the shots from open play. Set Piece TSR=share of the shots from corners & free-kicks. Scoring%=shots on target/shots. Save%= 100-shots on target against/shots against.
Right, so let's look at the table above. City are leading the league in eight of fourteen categories, which is, well, pretty darn good. Things that City are terrible at: Save%, PDO (which is dragged down by save%) and goals against which is caused by the bad save%.
In short: City are the dominant side in this years PL, but are being handicapped by a sub-par save% which is causing the goals against and, ultimately, has cost the club points. Save% tends to regress to the mean given time.
If Man City hold onto their excellent underlying numbers and enjoy some positive regression to their save% then things like results and points won are going to start looking very good, very quickly
Tottenham's 2013/14 Numbers
Tottenham's table is pretty impressive too. 2nd or higher in eight of the fourteen categories. Tottenham are a dominant shots team who can't score due to that hideous, unsustainably low scoring%. That low scoring% leads to a meh goal difference +/- and a good, but by no means great, average time spent winning number.
Tottenham's scoring% is going to improve over time, but some of that improvement will be eaten into by the impending slide of their save%. Some expected improvement and some expected regression.
This talk of regression probably needs to be explained. Here is a little chart 'thieved' from JamesWGrayson's site:
This chart tells us how closely performance in the first 9 games is correlated to performance in the remaining 29 games of a season. the numbers will differ slightly when using 11/27, but you get the picture.
Grayson: Read very little into a teams Sh%, Sv%, or PDO thus far, they're all likely to regress heavily towards their individual means over the remainder of the season.
So there we have it. Man City and Tottenham are two fine shots teams who occupy the first and second spots in most of the underlying number categories. Man City have a weakness in save% and Tottenham have a weakness in scoring%. Both of those weaknesses should correct themselves as we progress through the season. If the weaknesses correct and the underlying numbers hold then we are looking at two mighty fine teams.
Incidentally, this is how those weaknesses (and strengths) in scoring% and save% look when plotted with the remainder of the league: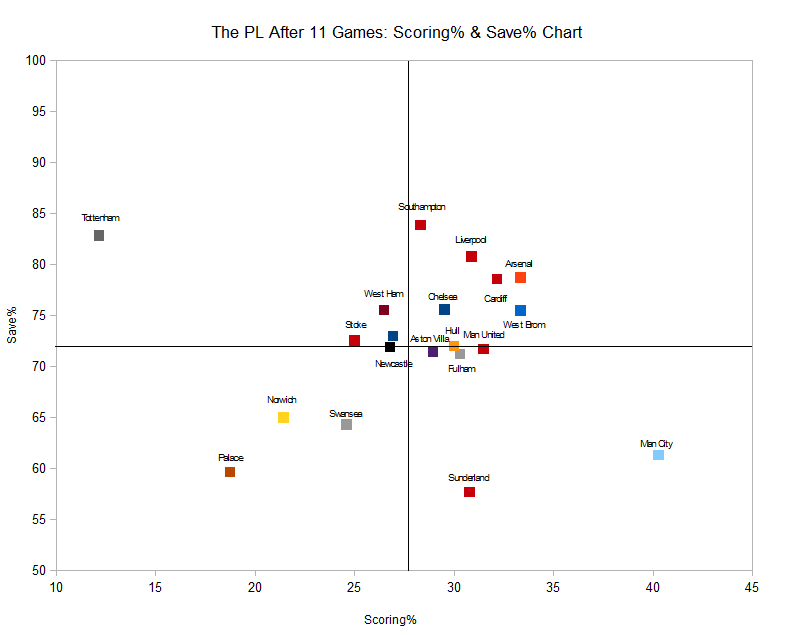 Saturday's combatants will eventually creep back toward the crosshair which signifies the mean in both scoring% and save%.
A song is your reward for making it this far.
Rooster, cockerel. Tenuous link.