Betting
West Ham 4/1 Draw 14/5 Man City 7/10.
Identical odds to the West Brom away game.
TV
17:30 BST ESPN
Venue: Boleyn Ground, Upton Park
Referee: Howard Webb
West Ham Formation
West Ham will look to pack the midfield and stifle City's possession. Carroll will be the direct threat with Nolan pushing on in support. Benayoun and Jarvis will be expected to provide the width and counter threat whilst also providing those crosses into the box which is so vital to West Ham's tactical setup.
Injuries
Demel, Vaz Te, Collison, Diame and Taylor.
One To Watch
Andrew Carroll. He is a physical force with a decent ground game, who despite his lack of 5 yard agility (which hold him back) will cause Man City some problems today. How Man City solve those problems will determine if Man City can keep a clean sheet.
Highlights
ManCity Formation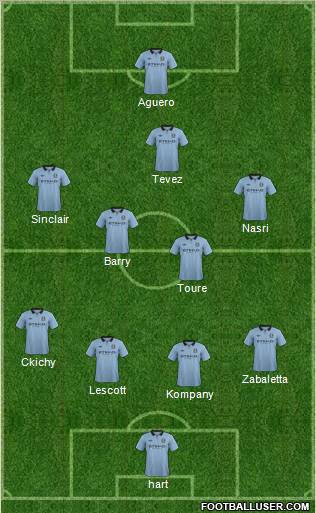 A fluid formation once again. It's also a fools game trying to predict this starting line-up.
With half an eye on Tuesday's crucial/hopeless task of winning against Ajax in the CL we may see today's PL lineup shuffled somewhat. Hence why I have picked Sinclair, I wouldn't be surprised to see Kolarov start. Lescott plays at Upton Park to deal with the aerial threat and to save Nastasic for Tuesday.
Injuries
Silva, Rodwell, Maicon, Richards, Garcia (doubtful) and Guidetti
One To watch
Toure. Will the Ivorian continue to be the deeper lying midfielder as he has been in recent games (injury?) or do we have to wait until Garcia returns which will then allow Toure license to roam and create? I think Toure will again sit deep and be the first option for the outlet pass.
Man City Away Highlights
You just have to listen to this commentary.!
Game Prediction
Man City's possession game vs the effective direct play of West ham is a clash of styles to stay the least. If Man City can win those long balls into our box and effectively transition those secondary balls into quick breaks we should see Man City win this football match.
First goal is key, as always. Man City have yet to score the opening goal in an away fixture in 2012/13 and I think today may be the day they break the duck. Once Man City are in a leading position we may see a far more polished and secure away performance than we have so far this term.
As for West Ham, the 'keeper is no longer the force he was, their defence should hold no great worries for Aguero and co, but their obdurate midfield, led by Kevin Nolan, may present a challenge to Man city's midfield pair. Cut the supply line to Carroll and they may struggle in a creative sense.
Set pieces could be a threat to man City.
West Ham 1-3 Man City
Thought or predictions, guys?