Venue: The Etihad
Time: 3pm BST
Weather: Normal!
Referee: Jon Moss
Betting: ,City are 1/5. Difficult to look past that despite the slim odds, think of it as 20% on your money.
Man City Formation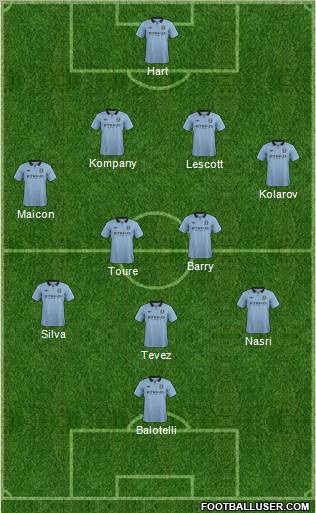 Predicting the starting line-up is nigh impossible;I will get one right one of these days though!
I would rest Clichy and Nastasic for this game, maybe even Toure, too. The striker berth will be either Balotelli or Dzeko. Mario after some public dressings down in midweek may well be given the opportunity to show that those words have been heeded.
Injuries
Richards, Rodwell, Milner.
One To Watch
Maicon, if as expected, starts, will be hope to build on his excellent Tottenham cameo and play an excellent two way game: strong and sensibly positioned in defense, and an attacking threat in wide areas when going forward.
I cannot stress enough how important Man City's full backs are to their attacking tactical set-up. Maicon, if he puts in a strong performance, will be a key attacking player for Man City this afternoon.
Highlights
Apologies for the quality of the video (you tube is a graveyard for teenagers posting their fifa highlights instead of actual highlights) but you have to watch it for the brilliant commentary. I would rather listen to this guy over Martin Tyler any day.
Aston Villa Formation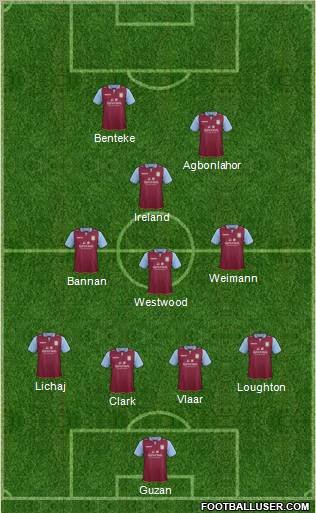 Injuries
Bennett, Herd, Bent, N'Zogbia, Dunne, Gardner, Petrov
One To Watch
Stephen Ireland. Mercurial, talented and lacking, in his younger days, the mental components to maximise his natural football gifts. Stephen was always a luxury player who could only really play, effectively, in the hole.
A trequartista who's abilities and game control may have suited the Italian or Spanish league's far better than the Premier League, Ireland now finds himself attempting to rebuild his career with Aston villa. He may just have found the right place to do it, with Lambert's passing game far more fitting Ireland's natural attacking instincts.
He can cause problems, but may not have the help around him to capitalize on his creative play.
Highlights
i cannot find any form of Aston Villa 2012/13 highlights, so let's watch the 1957 FA cup final instead
Prediction
Tough to see how Aston Villa may achieve even a modicum of success in this PL away fixture. Man City are, usually, dominant at home, routinely out-shooting the opposition, pinning the opposition into their own half. Silva, Tevez, Nasri et al then go about the job of trying to break down the visiting teams defence. This is the pattern, this is how it will be today.
Aston Villa are without many a first team player today, this may hinder their ability to give Man City a game. Will Lambert shut up shop knowing this and attempt to stifle and frustrate the home side, aiming for a point and containment? Probably. City are used to this by now. City to keep a clean sheet.
Man City 3-0 Aston Villa (13/2)