Betting
Man City 8/15, draw 10/3, Tottenham 5/1. City have drifted in from 8/13
Both teams to score 4/6
TV: Sky 2:30 BST
Venue: The Etihad
Referee: Michael Oliver
Weather:
Formations
Man City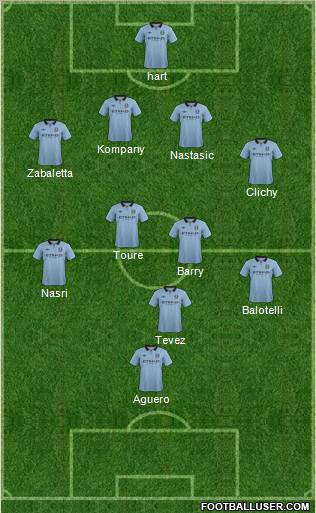 Formations are fluid and no longer resemble flat horizontal lines across the pitch, hence why this seems like it has been put together by a 3 year old child.
Guessing the line up is a fools game, I haven't been right yet and I probably won't be right today. We have no responsible wingers in our squad and this formation could be vulnerable to the Walker/Lennon axis on the right hand side.
Injuries
Silva, Maicon (doubtful). Milner, Rodwell, Guidetti and Richards are out.
One To Watch
Clichy is an important player today. Tottenham will be strong down their right side, so how well Clichy copes with that twin threat will be important. Man City's full backs are crucial to our attacking shape, they provide the width whilst the wingers tuck in, so Clichy will need to balance his defensive and attacking duties.
Highlights
This is more interesting than the highlights.
Tottenham Formation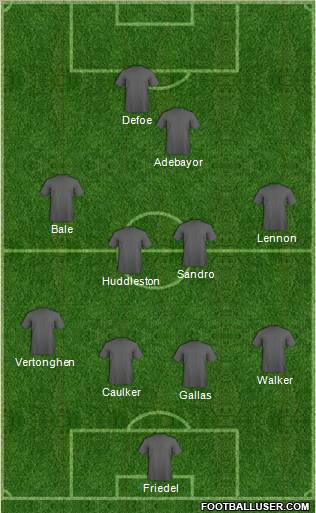 Injuries have depleted this line-up. Spurs haven't been known to start too frequently with two up front, but their hand may be forced.
Injuries
Livermore, Sandro (doubtful)
Parker, Dembele, Ekotto and Kaboul (injured)
One To Watch
Gareth Bale, who else. Rapidly developing into a top 5 player in the league, and a genuine out performer of any opposition, the Welshman will be a genuine threat with his direct running and pace.
Highlights
Spurs' excellent win over United
Grown men, unbelievable.
Prediction
Today's fixture features two teams who are yet to find their true identity this season. Both teams have injury issues, and in Spurs' case, in areas that are more important-midfield.
Bale and Lennon will provide a very real and dangerous wide threat to Man City's narrow shape, and it is how City cope with that threat that will determine the game.
Both teams to score seems to be a favourite bet around the markets. City should win this.
Man City 3-1 Spurs