Man City host Swansea City at the Etihad this afternoon, with City looking to continue their strong PL form and banish some of the tactical and media doubts that have arisen in the wake of yet another disappointing CL result.
TV: ESPN 17:30
Streams: Too many to mention
Venue: The Etihad Stadium
Referee: Martin Atkinson
Last year: Man City 4-0 Swansea, and that Aguero debut.
Betting
Man City 1/4, Draw 3/1, Swansea 11/1
Man City's starting price was 1/5, so something has happened in the past 48 hours in order for that price to shorten, for the life of me I am not sure what it is.
Man City Formation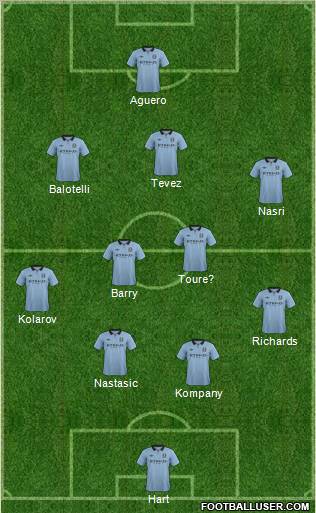 Again, I have listed expected field positions rather than get bogged down into static formations.
Will Scott Sinclair start, and thus play against his former club? Probably. I just have a very peculiar hunch, and in all probability that hunch is erroneous, that Mancini may well go for this one. The managers pride may be a little dented, his ego slightly bruised. The manager could do with winning this football match and winning it well.
That is why I have listed 3 of Man City's big strikers to start. Tevez will drop deeper into midfield, Balotelli will play wide-ish left, as he is accustomed to. The issue with the 3 forward selection is will the wide players track back? We have to hope so, for this has been one of the large problems in Europe, and Swansea for all their relative toothlessness play a patient possession style game. with wide players that can hurt the opposition.
Injury Doubts
Rodwell, Silva, Javi Garcia, Yaya Toure, Zabaletta, Maicon.
Milner is suspended
One to Watch
Whoever partners Vincent Kompany. If it is Nastasic, as is widely believed, is this more evidence that the manager doesn't entirely fancy Joleon Lescott or is the player simply being rested?
If Lescott plays, do we assume that Nastasic, a fine prospect, is not quite ready for the Man City starting XI, even in fairly routine games?
Home Highlights
Man City's previous home game v Sunderland
Swansea Formation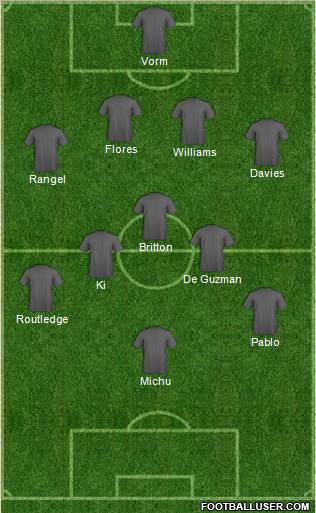 I shall not pretend to be some form of tactical expert on Swansea's formation. Instead, I shall leave the reader in the safe hands of Swansea manager Michael Laudrup
"I like strikers, but sometimes when people ask what system do you play and you say '4-3-3' they say 'oh you are offensive, that's good.'

"If you say '4-5-1' then people think you are defensive. But it is exactly the same system, it is just the two wide players dropping 10 yards off.

"If you look at the three up front in a 4-3-3, you can have three forwards, one forward and two wide players, or one striker and two midfield players. So it's one system with three different variations.

"You have to look more at the individual quality of the players instead of just saying 'I'm a 4-4-2 guy or a 4-3-3' because no-one will say they are a 4-5-1 type of manager or even worse a 4-6-0 manager because they will be booed.

"But Spain have played 4-6-0 and won.

"When we start the game and you see how we are lined up it's easy. but players move.

"It's much easier on paper or on my chalkboard. but we are talking about people in a game.
The full interview with Laudrup can be found here.
Swansea are experimenting with a formation that appears to have no spearhead, no Danny Graham. Routledge and Pablo Hernandez are two wide players capable of causing Man City a few problems. Routledge with pace, Pablo with ability and intelligence.
Injury Doubts
Bartley and Taylor
One To Watch
Pablo Hernandez. The summer signing from Valencia has adapted well to the PL and has enough technical ability and intelligence to cause Man City problems. Respectful mention, too, to Michu who has 6 PL goals.
Highlights
Prediction
Man City, despite European difficulties, will be back on familiar and happy territory when they host Swansea, and Man City's home form has been imperious in the last 2 years. This strong home form and the caliber of players Man City possess should be enough to ensure the 3 points today against a Swansea side who, although attractive to watch and highly capable in possession, don't possess the attacking bite to overly trouble Man City, nor the defensive acumen to thwart what may well be a very attacking line up.
First goal is key, as always, and if scored by Man City I think we shall the go on to witness what makes City such a strong PL team and this will make us wonder, all the more, just what the issue is in Europe.
Man City 3-0 Swansea (15/2)